Iterators LLC Ranks #1 in the Clutch's List of Top Software Testing Companies in Massachusetts for 2021
To run your business smoothly, software testing is necessary. Its mission is to check whether your software meets all the project requirements, is credible, operational, and ready for production. And to ensure your software testing, Iterators LLC comes in!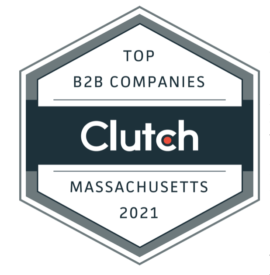 Since 2017, we have been providing software testing services to ensure that your software is free from bugs and vulnerabilities. Our team has been working hard and committed to manage and accomplish our client's business needs effectively and efficiently. Our dedication and passion for the craft have vested us with our newest and biggest achievement this year!
Today, we are honored and proud to share wonderful news with all of you! Clutch recently announced the top agencies this year, and guess what? Iterators LLC is the top software testing company in Massachusetts for 2021!
If you're not familiar with Clutch, it is a B2B ratings and platform. They help connect businesses with a reliable partner to tackle their business challenges and projects. Their team evaluates service providers to determine the leading agencies from different industries and locations every year. That's why we are grateful to be listed on their prestigious directory. Here's what our CEO had to say about:
We just won an award from the Federal government for accessibility services for the Library of Congress. Specifically, our testing will ensure their software is accessible to the visually impaired while using a screenreader.

Managing Member, Iterators LLC
We attribute this success to our amazing employees and clients. This recognition is a true reflection of our hardworking team throughout the years. A special thanks to Clutch for recognizing us as a top-performing B2B agency in Massachusetts. Some clients are not allowed to leave reviews, please reference our recent work at https://www.boston.gov/news/bu...
Take a look at some of our stellar 5-star ratings:


Are you looking for a reliable partner to free your software from bugs and errors? Drop us a message, and let's get started.
Check Out These Related Articles:
PDF Accessibility Remediation Software: Iterators' Best Practice
About the Author
Jill Willcox has worked on accessibility issues for most of her professional career. Iterators is an inclusive women-owned small business (WOSB) certified by the Small Business Administration and WBENC. We provide software testing services for websites, mobile apps, enterprise software, and PDF remediation services, rendering PDFs ADA compliant.