Own Your Passion - Women in Tech
As a woman-owned small business and WBENC-certified, I was fortunate to win a mentorship with TJX. In order to be considered, I had to complete the application and write about myself, why I desired the mentorship, and the areas I wanted to address throughout the mentorship. As a small business owner during a pandemic, I chose strategic planning, leadership, and accountability, along with procurement.
In full disclosure, I used the term "procurement" in the application process to mean obtaining something in the way that governments use this term when they seek our help testing websites and mobile apps. Our company, Iterators LLC (found at IteratorsTesting.com), performs software testing services for websites, mobile apps, and more. In reality, I was not suggesting I needed assistance in the area of the supply chain. Instead, I wanted to work on securing more clients. While initially embarrassed by my error, I embraced my slight discomfort. (I will write more about this later.)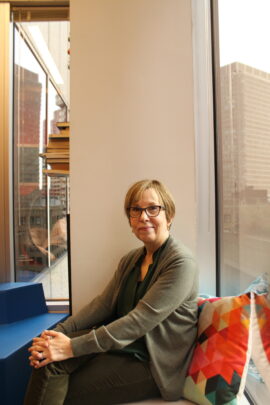 Of the three mentors, two are in the procurement area, and I would not change a thing. One mentor was hired during COVID-19 and has never been to his office or met the other two mentors in person. He is authentic, analytical, and creative. The second mentor has been with the company for more than five-plus years and previously had a mentorship of her own during her career and found it beneficial. She is intelligent, thoughtful, and confident. The third mentor has been in her position for over 15 years. Working in the area of diversity, and experiencing all the events we are living through, such as Black Lives Matter, makes this an exciting space to work in with many opportunities to look forward to. She is a mentor to all, intelligent and generous with her time.
When it was my time to introduce myself, I started with my initial career path as a registered nurse and finding that all my jobs surrounded accessibility in one way or another. What was most interesting to me about our initial meeting is that my mentors didn't know anything about software testing or the extent to which it's used every day. They were completely unfamiliar with Accessibility testing, WCAG 2.1, or even the lack of access that disabled individuals encounter. When I mentioned the Voluntary Product Accessibility Template (VPAT) and explained it's a document that evaluates how accessible a particular product is according to Section 508 Standards, it blew their minds. Although this is not their area of expertise, they liked my passion, and as one of my mentors said, "I would not hire someone without passion." This mentor explained that in procurement, you interview and meet lots of vendors, and if you don't have passion, no one else will.
I learned a lot the first week, allowing myself to feel some initial embarrassment while not letting it consume me, about the generosity of my mentors even outside of our scheduled time. They have passed on many pieces of beneficial and constructive advice based on their experience, but my most valuable lesson was to own my passion. Sometimes, I try to hide my passion because it's often considered a negative for women, like the word "emotional" in the workplace. However, passion can go a long way in teaching people about a topic they are not familiar with, help pique their interest and learn its value, and maybe even encourage them to become a client should they ever need our services. From now on, I will own my passion.
About the Author
Jill Willcox has worked on accessibility issues for most of her professional career. Iterators is an inclusive women-owned small business (WOSB) certified by the Small Business Administration and WBENC. We provide software testing services for websites, mobile apps, enterprise software, and PDF remediation services, rendering PDFs ADA compliant.
Unique People Unique Approach Quality Results
We Can Help You
Contact Us
Iterators LLC is Certified Women-Owned Small Business (WOSB) and Women's Business Enterprise National Council WBENC-Certified WBE